Create methods using special GUI of LabSolutions
In addition to high-throughput data acquisition, Nexera MX supports various processes from batch setting to data analysis with sophisticated software, improving the efficiency of overall operations.
Method creation using the special GUI of LabSolutions
Create analysis methods easily using the special GUI of LabSolutions. Complex settings such as switching valves are unnecessary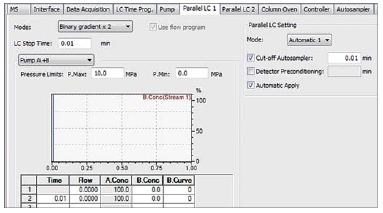 Software dedicated to analysis execution and batch queue management
The MX Solution software was designed exclusively for Nexera MX. It realizes simple operability with the minimum status displays and reduced click operations. Analysis starts by simply clicking three buttons. The rack plate usage status and analysis progress are graphically displayed during analysis, allowing for easy checking at a glance.

Processing of a large volume of data using LabSolutions / LabSolutions Insight
A large volume of data can be analyzed using LabSolutions Insight and LabSolutions. The flagging function of LabSolutions Insight quickly finds data deviated from the standard values from among a large volume of data, dramatically reducing the number of data sets that need to be checked and facilitating quantitative process effectively.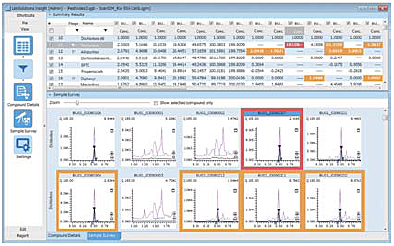 For Research Use Only. Not for use in diagnostic procedures.
This page may contain references to products that are not available in your country.
Please contact us to check the availability of these products in your country.