AOC Series GC Autosamplers
Automatic Operation Controller for Liquid Sampling
Shimadzu offers a liquid autosampler for every price point and sample capacity need. The liquid autosamplers dramatically improve the work efficiency and reliability of GC analysis. No matter your budget or total sample count there is an autosampler combination to fit all laboratory needs.
Contact a Sales Representative for More Information on the GC Product Line
AOC-30 Series
Features
Reliable Automatic Operation

Better reproducibility with variable injection speed control

Longer lifetime consumables with better stability

Customized cleaning sequences
​Space Saving Efficiency
Similar in size to previous models with added sample capacity

Larger built-in sample carousel holds more waste/wash vials

When run in a dual-tower configuration, up to 60 samples can be analyzed
Built-in Pro Tips for Method Creation
New software function Sampler Navigator build on Analytical Intelligence

Simplified method creation

Easy overlapping pre-treatment operations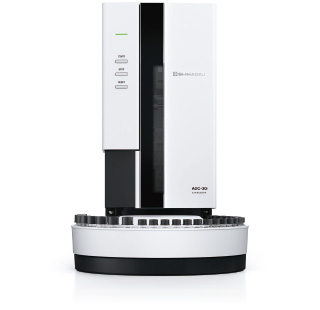 In the ever-changing needs for the lab, this autoinjector allow for the flexibility of increased sample loads. For those looking to not only expand their total sample count but also looking for simplified method creation, the AOC-30 series is for you.
AOC-20i Plus Series
Features
Space Saving Efficiency


Sits directly on top of the GC with minimal over-hang

Sample capacity of 6 or 12 samples

Supports diverse injection modes, including solvent flushing and PTV large volume injections
The AOC-20 provides the highest degree of reliability. Maintaining reproducible results requires that periodic maintenance be performed, such as changing the injection port septa or syringe. With the AOC-20, these procedures are simple, and you can comfortably perform them without fear of adversely affecting instrument performance.
AOC-20s U
(For use with AOC-30i or AOC-20i Plus)
Features
- Works with all AOC-30i and AOC-20i series injector towers
- Sample capacity of 150-2mL vials or 96-4mL vials
- Self-correcting reliable sample transport
- Easy rack exchange
- Upgrade options for barcode reader and cooled racks
Compatibility of AOC Liquid Sampling Systems
Shimadzu offers a GC autosampler combination for any laboratory need. Whether you are interested in an AOC-20i Plus for a simple sample load, the specialty washing capabilities and larger sample capacity of the AOC-30i, or the maximum flexibility of either tower in combination with the AOC-20s U 150-sample carousel, these liquid sampling devices are made keep busy lab operators focused on results.
Related Products
Maintenance and ease of use have never been simpler with the Nexis GC-2030. With features like a full color, touchscreen display, tool-free maintenance, and the ability to use alternative carrier gases, operators have never been more in control. System can be configured with multiple inlets and detectors including the newSCD-2030 detector.
With automated pretreatment and the ability to switch between three GC/MS sample injection modes – liquid, headspace, and solid phase micro extraction – the AOC-6000 dramatically improves GCMS and GC analysis productivity.