Reliable Automatic Operation
High Reproducibility
AOC-30 automates the analysis, reduces an operator's workload, and enables continuous analysis with a high degree of accuracy that cannot be achieved by manual operation. Shimadzu's unique injection method achieves high reproducibility while preventing septum damage and liner contamination.
​

Injection method suppressing damage to septa and contamination of liner

(Patent Pending)
The injection speed is controlled stepwise by the septa structure to achieve excellent performance and reduce damage to the septa.
Area Reproducibility (%RSD)
1 n-Decane 0.162
2 n-Octyl alcohol 0.163
3 2,6-Dimethylphenol 0.160
4 n-Undecane 0.145
5 2,6-Dimethylaniline 0.149
6 Methyl nonanoate 0.157
7 Methyl decanoate 0.141
8 Methyl dodecanoate 0.180
9 Dicyclohexylamine 0.208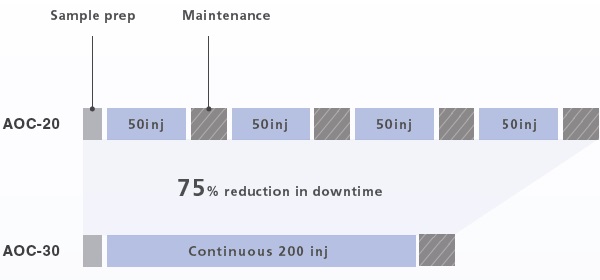 Long-term Stability
Various advances in sample washing enable worry-free long-term analysis. Furthermore, by using AOC-30 in conjunction with Shimadzu's genuine, high-quality consumables, the maintenance frequency can be significantly reduced. Less maintenance leads to less downtime and, therefore, higher efficiency.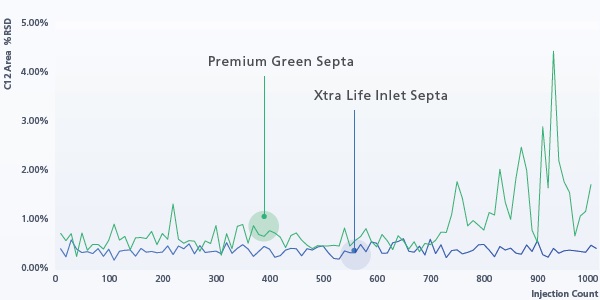 10-times Longer Septa Life
The unique structure of Shimadzu's Xtra Life Inlet Septa results in excellent injection durability and enables continuous analysis of approximately ten times that of conventional systems, up to 1000 injections before replacement.
Space-saving Efficiency
Configurable for Analysis Purposes
The single tower system provides automated analysis of up to 30 samples, covering a wide range of analysis needs, and is recommended as the first selection. Injectors and samplers can be added to increase analysis capacity.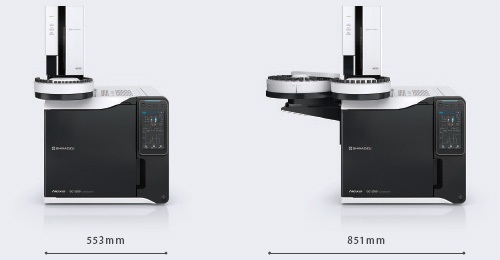 Space-saving Design
When combined with the Nexis™ GC-2030, the AOC-30 single tower/sampler offers a space-saving design with system widths of just 553 mm/851 mm to maximize lab space use.
Space-saving Sampler Configuration
(patent pending)
To save lab space, even as the system expands, the housing structure was devised to make the installation area, including the sampler, as compact as possible.
30 samples
60 samples
150 samples*
150 samples*

Single Tower

Dual Tower

Simultaneous dual-line analysis is possible

Cleaning/waste vial

Sampler System

Dual Sampler System

Simultaneous dual-line analysis is possible

Cleaning/waste vial
* 150 samples for 1.5 mL vials. 96 samples for 4 mL vials.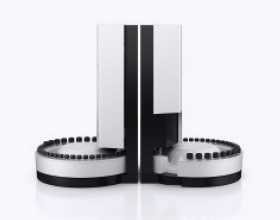 Dual Tower System Doubles Throughput
Installing two AOC-30 systems on one GC enables analysis of up to 60 samples. It saves space by eliminating the need for two GCs, doubles analysis throughput, and is recommended for those who want more productivity.
Built-in Pro Tips
Injection may seem trivial, but in reality it is a very complex process that requires a lot of optimization. The Sampler Navigator reduces the guesswork involved by letting you choose from a carefully curated list of optimized methods, meticulously prepared by experts in gas chromatography. Get up and running with a single click.

Simply enter the injection volume and solvent type and choose a preset.
(patent pending)
The animation of the icon displayed along the sequencing process shows what changes by applying the preset. After you apply a preset, you can finetune it for a more optimal sequence.

Application: Highly viscous sample
For highly viscous samples, such as glycerin, engine oil, and lemon oil, analyzed without dilution, the parameters are optimized to achieve more accurate injection.
Sample injection may not be accurate with standard injection settings
Continuous analysis of viscous lemon oil